Welcome to Natural Bodyz Fitness !
Top Gyms in Virginia Beach
Gyms in Virginia Beach
Open 24/7 – Two of the Top Fitness Centers in the Area!
Natural Bodyz Fitness provides the ultimate fitness experience. As two of the top gyms in Virginia Beach, Natural Bodyz Fitness has everything you need to accomplish any goal that you set out to achieve! No matter what your age, level of experience, schedule, or budget, this is the place for you to achieve your fitness goals.
Natural Bodyz Fitness-24/7 welcomes all fitness levels and anyone who desires the many benefits of regular exercise. We pride ourselves on having a family atmosphere that seems to be missing in the "big box fitness centers". We welcome lifters, bodybuilders, athletes, soccer moms, and everyone in between!
Members can train with our team of USA Elite Personal Trainers Virginia Beach, who are 100% dedicated to their client's success and making each goal a reality. Come to one of two top gyms in Virginia Beach, Natural Bodyz Fitness Kempsville and Natural Bodyz Fitness Bayside.
Are You Just Beginning Your Fitness Journey?
We offer circuit machines with over 16 pieces of equipment that are designed for all fitness levels. Further, we have a large range of dumbbells (3's,5's,7's,10's, and up!) so that you can progress through each exercise at your own pace and always feel challenged. We also have free weight machines and smaller free weight bars to accommodate all fitness needs. Our fitness center's cardiovascular training equipment includes; Star Track Treadmills, stair mills, Star Track ellipticals, recumbent bikes and to top it off, there's even a cardio cinema at our Kempsville location and a crossfit room at our Bayside location!.
Ready to take your fitness to the NEXT LEVEL?
Our fitness center facilities are stocked with equipment to help you kick your fitness level up a notch and achieve the results you desire! With over 16 pieces of quality circuit machines (York, Bodymaster, Nautilus, and Cybex equipment!) as well as two free weight squat racks, two smith machines, lifting platforms, plate loaded machines and dumbbells from 3-150 lbs at both locations, Natural Bodyz has all the tools to help you elevate your training.
Are you preparing for a race or special event?
As two of the top gyms in Virginia Beach, we offer the right equipment for your training needs. We offer a variety of functional training equipment that is designed to get you in top shape for an event or race including; marathons, obstacle-course races and mud runs. Our outdoor training area has plenty of space and equipment to fit your training needs: (push/pull sleds, tractor tires with sledge hammers, battle ropes, hurdles, etc.). In addition, training and nutrition programs can be designed to optimize performance in areas such as speed, endurance, agility, power, and body control.
Are you an Athlete/Competitor, training for your next show or competition?
Natural Bodyz Fitness is optimal in training fitness centers for athletes and competitors alike who require a variety of training tools and options. We offer everything you need to train for peak performance while also providing specialized programs to help get you there!
Show selection
16 week Diet (Includes all last week tips)
16 workout and cardio routine
Posing instruction – how to perform proper T-Walk
Posing instruction – how to execute quarter turns, mandatory poses and create a evening routine
Music creation
Suit selection – web location
High Def Air brush Tanning
Photo and video documentation
On site with you on show day
BNI Ball & Total Body Transformation Finale
BNI Ball & TBT Finale
We are hosting our annual BNI Ball & TBT Finale to celebrate fitness accomplishments and socialize. Secondly, ALL PROCEEDS will go to charity! We will have a clothing drop and door prize raffle items! We will have celebrity ball room dancers for a special dance performance. This will be a full dinner catered event. Tickets will only be $20 each! More detailed info to come! Purchase tickets at Natural Bodyz Fitness or online at Event Brite!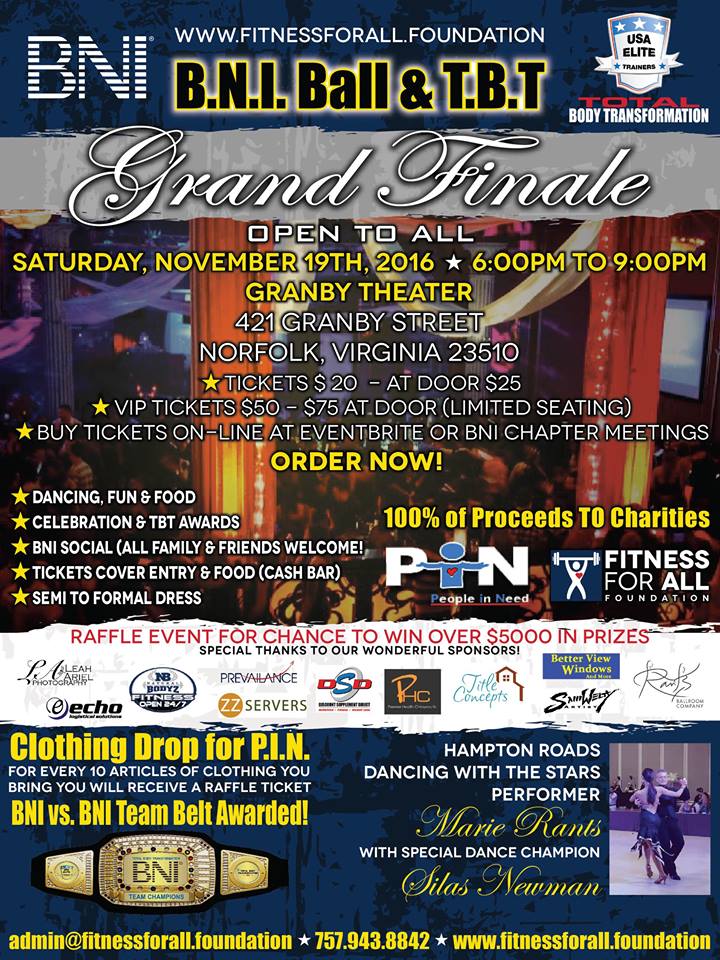 OPEN 24/7
TOTAL ACCESS ANY TIME!
Thanksgiving is tomorrow! Stay on track with your fitness goals and add this delicious recipe from Sydney to your Thanksgiving feast! Your family..
Visit two of the top gyms in Virginia Beach offering top notch fitness, Natural Bodyz Fitness-24/7. At NBF we offer state of the art equipment and USA Elite Personal Trainers.
Natural Bodyz Fitness-24/7 Virginia Beach
Address: 5386 Kempsriver Dr. Suites 5, 6 & 7, Virginia Beach, VA 23464
Natural Bodyz Fitness-24/7 Virginia Beach
Address: 1608 Pleasure House Road. Suite 110 & 111, Virginia Beach, VA 23455